OC of :Faris Monochrome
PROF.Sage

PERSONAL INFO

Name
Winter Sage
Birthdate
Unknown
Gender
Male
Age
28
Height
185cm
Weight
79kg
Blood type
unknown
Race
Esper
Occupation
Part time researcher,Teacher
Affiliation
Eclipse Academy
'
'




House of
Marital Status
unknown
Team
not provided yet

APPEARENCE

Hair colour
Black
Eyes colour
unknown
Helmet
Black

POWER

Photokinesis

WEAPON

Daggers

Pistols

FAMILY

unknown
'
'

OC OWNER

Faris Monochrome

OC Status

ONLINE






Personalities
Edit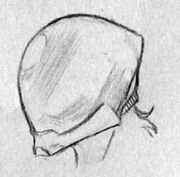 Likes : grilled fish, mask/helmets, useful people and power
Dislikes : lightning and people who attempts to remove his helmet.
Real Personality : calm, mysterious and cautious.
Facade Personality : cheerful, friendly and always curious.
Background
Edit
Sage is a scientist before he became a EA teacher. Not long ago, he and his subordinates did a certain research but th
e research didn't last long after a series of incidents claimed his subordinates lives and destroyed his research facility.
Unable to continue his research, Sage was left with no choice but to get help from outside source. His attempts to get help was almost impossible as no one was willing to help him but, he succeeded after he requested help from EA but, with a condition. In exchange for helping him with his research, he must become a teacher.
Sage never experience actual combat in the past and rely too much on his ESP ability so, he mostly teaches in class instead of practicals